flatmate.com have forged some pretty awesome partnerships.
StreetSmart Australia

Homeless charity StreetSmart and flatmate.com have recently agreed to a partnership, with flatmate.com providing financial support to StreetSmart. Every paid subscription on our site will see 50% of that subscription donated to assist grassroots homelessness projects that StreetSmart funds.
Adam Robinson founded StreetSmart in Australia in 2003. Frustrated by the lack of leadership and ambition to combat homelessness in Australia, Adam left a successful career in the corporate world to start the not for profit agency, based on a similar organisation in the UK.  The focus of StreetSmart is to fund grassroots organisations that don't have the capacity or the resources to seek funding.  The philosophy privileges locality – funds raised in local areas are fed back into projects that are as close to that locality, and 100% of donations are channelled into partner charities. These organisations are delivering critical and innovative responses to community needs. To date in excess of $3.4 million dollars has been raised and distributed among more than 400 organisations, funding over a thousand different projects.
To work with StreetSmart in raising much needed funds, allowing us to indirectly support organisations that survive due to assistance from charities like StreetSmart.  We are determined to be more successful, knowing that those who are affected by homelessness across Australia will benefit for our small effort.
We are also determined to take this globally so other countries can benefit from people using our site in those countries. Together we can help.
Yello Drivers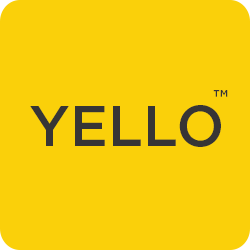 Yello helps cafes, restaurants and fast food vendors efficiently manage their home delivery and helps drivers find new driving opportunities.
Yello helps you build your food delivery business.
Download the app, set up your profile, apply for shifts and you are away.
Flexible working hours
Use your own vehicle or hire a car or scooter
Work for who and where you want
To sign up as a driver just download the app from Apple's app store or Google Play and set up your profile.