Homeless charity StreetSmart and flatmate.com have recently agreed to a partnership, with flatmate.com providing financial support to StreetSmart. Every paid subscription on our site will see 50% of that subscription donated to assist grassroots homelessness projects that StreetSmart funds.
This week, I had the opportunity to meet with Adam Robinson, CEO of StreetSmart and visit FareShare, one of the projects that they fund. For eleven years, StreetSmart has been able to provide grants to FareShare totalling almost $40,000.  These funds have been used for a variety of projects, including the leaser of a kitchen, food rescue, Schools Run programs, dinner for Kids at Risk and providing catering for Charity Dining Halls.
Having a tour of the FareShare facilities, with Adam and FareShare kitchen manager, Christine Mitchison had a profound impact on me and further endorsed in my heart the need for our partnership.
To see the work that the volunteers are doing, the compassion in their soul, knowing that they are doing contributing out of love to help the needy and homeless of Melbourne, was one of the most humbling experiences I've ever had.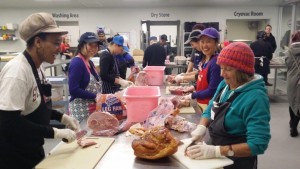 The volunteers were smiling and chatting with each other, and the positive energy that was felt as we walked around the kitchen is still resonating with me five days later. The work that FareShare do, and the partnership with StreetSmart, only makes us more determined to succeed for the sake of the homeless.
Adam Robinson founded StreetSmart in Australia in 2003. Frustrated by the lack of leadership and ambition to combat homelessness in Australia, Adam left a successful career in the corporate world to start the not for profit agency, based on a similar organisation in the UK.  The focus of StreetSmart is to fund grass roots organisations that don't have the capacity or the resources to seek funding.  The philosophy privileges locality – funds raised in local areas are fed back into projects that are as close to that locality, and 100% of donations are channelled into partner charities. These organisations are delivering critical and innovative responses to community needs. To date in excess of $3.4 million dollars has been raised and distributed among more than 400 organisations, funding over a thousand different projects.
flatmate.com partners with StreetSmart for profit share with purpose. Formally announce partnership.
FareShare Australia started in 2001 after Melbournian Steven Kolt saw the work being done by New York City Harvest on a trip to the US. Steven started collecting prepared meals from function halls and catering businesses six times a month and called the project Melbourne City Harvest.  With some funding from Jewish Aid, the Pratt Foundation and RACV Foundation, FareShare was born. It has been supported by philanthropic organisations since then, opening its first dedicated kitchen in Abbotsford in 2008. FareShare has recruited food donors and volunteers ever since and today around 600 volunteers cook more than 20,000 meals each week for hundreds of Victorian charities.
To work with StreetSmart in raising much needed funds, allowing us to indirectly support organisations like FareShare is a privilege.  We are determined to be more successful, after visiting FareShare this week, knowing that those who are affected by homelessness across Australia will benefit for our small effort.
John Stericker, founder and owner, flatmate.com