It only takes a small idea to have a huge impact on society.
The state of homelessness in Australia is rising, with over 100,000 people Australia wide who are living on the streets – YES! That means tonight.
How can we solve this problem?
What does it take to help all these people who live without a home?
How do we help those who are on the brink of losing their homes with Australia's escalating rent prices?
Meet Nic Marchesi and Lucas Patchett, both who are in their twenties and from Brisbane, which have founded a mobile laundry service helping homeless people with cleaning their clothes.
On January 26th, both Nic and Lucas were awarded Young Australians of the Year.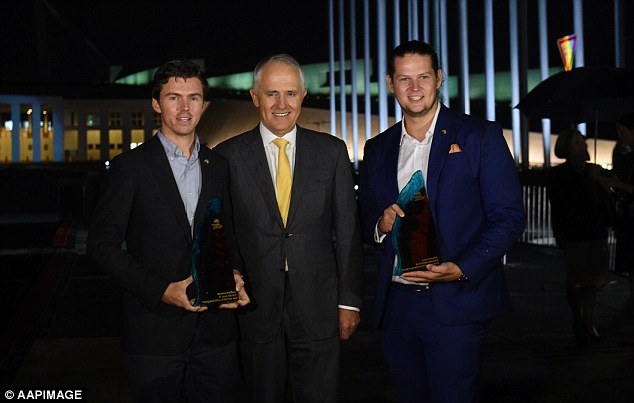 (image from dailymail.co.uk)
About Orange Sky Laundry
In September 2014, as 21 year old best mates, the pair launched Orange Sky Laundry, a free mobile laundry service where they saw the problem of homeless and disadvantaged people in society needing an affordable service for cleaning clothes. It has quickly expanded into other major cities, with 4 vans in Brisbane, Melbourne, Gold Coast and South-East Victoria. They also have mote than an incredible 250 volunteers who are helping the pair and Orange Sky to go nation wide.
In a recent piece by the Sydney morning Herald, "We wanted to improve the hygiene standards of the homeless, so we came up with this crazy idea of building a free mobile laundry", Nic Marchesi stated last year.
The two young Australian men have made a bigger impact on society than most do in their lifetime.

(Image from Orange Sky Laundry Instagram)
Why are they true Australian heroes?
How many 21 year olds can you name who can come up with a brilliant, yet simple idea like this?
Whilst the idea is fantastic at first instance, most 21 year-olds are going out on the weekends or during the week having fun. However, the tenacity to pursue an idea and both Nic and Lucas giving up their spare time to help those who need it most, truly makes it a well-deserving recognition in receiving young Australians of the year.
Recently on ABC, Nic quoted, "For two young blokes to knock on a laundry partners door and say we want washers and dryers to put in a van, they thought we were crazy".
The pair only started off small – a van (which they nicknamed Sudsy), two large washing machines, two large driers, water tanks and a generator. They travelled around near homeless shelters, where there were food vans and free barbecues. It gave the opportunity to help homeless people to have their clothes washed for free.
After using their Generation-Y, social media savvy skills, and help with the community grants program by StreetSmart Australia, they quickly expanded to the capital cities with over 250 volunteers and over 350 loaded washes per week. Now, businesses and local governments are now coming on board to help Orange Sky to become a sustainable charity.
They've been up to North Queensland to wash the clothes of residents affected by Cyclone Marcia. They even went down to the recent Victorian Bushfires where they helped a mother by washing and drying clothes which had been donated to her.
It's truly inspiring to see the accomplishments which they have achieved in just over a year.
Three main takeaways from these two amazing gentlemen
You only need a simple idea to impact people who truly need our support
Spare time out of your schedule to visit a homeless shelter and provide any support
Always be kind and think of ways to help improve society for all of us.
We should all feel very proud to have people like these boys in society. I know it has certainly helped myself to realise how the smallest of ideas or commitment can change the lives of those around us.
(header image from Orange Sky Laundry Instagram)